There is Humor...to the Sweetness of my Grandmothers funeral. That may sound a little strange, but I know she was enjoying the events that took place.
1

. The wind seemed to only be blowing at the

cemetery

. It about knocked you over. At the church...hardly a breeze. Seriously??
2

. The door to the hearse got stuck. Would not open. Kidding me?? We ended up going back to the church to eat a delicious meal while they called a locksmith to come help. Within just a few moments of us leaving they were able to get it open (without the locksmith). Funny part...they still had to pay for the locksmith (how many times do I need to say that in a sentence) to come out and tell them nothing was wrong??!!
3

. The third picture with the Mother on the ribbon...That was taken while I was holding the casket from

sliding

off!! Holy BLEEP??!! Why take a picture you ask? I had barely touched the ribbon as the casket started to slide, my finger hit the camera button, as I grabbed the side rail to hold on. Help came quickly with my yelp...phew!!A total Chevy Chase movie chain of events....
In the end...the beauty of this shot captivates how it all turned out. Walking away, the sun broke through the clouds, the wind stopped howling and our bodies and minds were touched by the warmth of the moment. Thank you Grandma. I Love you.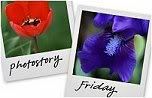 Hosted by Cecily and MamaGeek