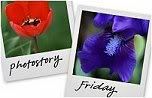 Hosted by Cecily and MamaGeek
Who doesn't LOVE a good powdered donut?!

1. When all else fails...open up a box of hostess donut holes and see the tears vanish!
2. Do not try to inhale while eating one of these tasty treats.
3. Put the whole donut hole in your mouth.
4. Do not talk while chewing...powder goes everywhere.
5. Try as you might to conceal the evidence of eating the donut...the ring around your mouth is a dead giveaway!
6. Eat them OUTSIDE of the vehicle/house.
7. Try not to eat the whole box in one sitting.
8. Yes, donut holes are smaller. That means I can eat half the box myself right??!
9. Make sure to distribute evenly, because the cat claws come out..Meow!
*
I didn't play today...however, click on this button and play along with this beautiful lady and tell us what your are wearing today!!