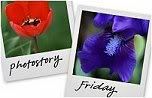 Hosted by Cecily and MamaGeek
AND

I love doing both of these (click on the buttons to play along!) on Friday, and have found that with the pictures taken of me there is a story. Today is no exception....

Story...
I am actually ready for the day before 8 a.m.! I asked Brynn to take my picture. This is as good as it gets. I kinda like it though. Gives the illusion of being smaller...and that makes for a VERY pleasant day!!!
What are You Wearing?...
Sweater: Target... $14.99 + tax (wish I was in OR)
White Shirt: Costco (shade shirt in 2 pack)...$14.99
Jeans: Kohls...Gift!!
Shoes: Target... $12.99
Make-up: Bare Minerals (had to put that in because I LOVE it and it's a miracle I am wearing any today)!