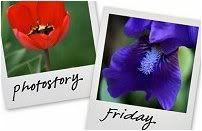 Hosted by Cecily and MamaGeek
Today I met up with my FriEnd - Karolynn and kids for BreaKfast at IHOP...While waiting to pay for our food...

2

CouPles CommENTed on how our children were so well behaved in the restaurant. One of the

CuTe

ladies went out into the overflow area where our kids were playing so QUiEtly..cough, cough...to talk to the kids. As soon as I paid I went out to see what was going on....Oh, my GraVy...she was

SiNging

"I am a Child of God" with the kids!! It was such a TenDer moment that I HAD to take a picture (or

2

)...and yes my camera was with me..you never know!
Afterwards we asked her name...Sis. Edwards was her reply. Little did I know that I would StaY around and TalK with them for an HouR longer. Thanks to Karolynn for taking LiTTle S home with her...I had a SwEEt and MakE my WeeK conversation with them.
It's so WonDerfuL to have

MeaniNgful

conversations with those who are WiSe

WELL

beyond my years!! I ChERish the words which were spoken about their lives. In the ShoRt time we were able to connect as though we were

FamiLy

...They said they would call the next time they met...which is every month or so...I sure HopE they do!!!