I was given this kind of tag 3 times (just a slight variation of number). This tag was given to me by the beautiful Red Head from
The 5th file, in the 5th folder, and the 5th picture....
Here we have our lost little Mitsey (that's another story) playing with a mouse...please click on the image to get even more creeped out by this little critter...
This tag was bestowed upon me by my friends...
The 6th file, in the 6th folder, and the 6th picture.
My Grandfather died a little over a month ago. The family viewing took place the evening before the funeral. As all the family was quietly talking, my Mom (on the left) and my Aunt Diane (right, DeeDee-DooDoo...Love you) were engaged in a sweet conversation.
I had not seen my Aunt in over 10 years! She is still just as beautiful as I remember. Painting my nails, doing my hair, telling scary stories, sleep overs, playing and doing all things "girlie" style are some of my favorite memories of childhood, with her. How grateful I am for the events that took place those couple of months. Not because of what we lost...but gained. To see my family who I adore so much come together in celebration of life, sorrow, joy and love, was so sweet for me.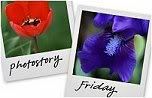 Hosted by Cecily and MamaGeek
Click on button above to join in on the PhotoStory Friday. I would tag others, but I am in a lazy sort a mood. So those of you who would like to do this fun tag...please enjoy. I really had a good time being surprised.....phew!!!