April 2007, we had the opportunity to spend 3 weeks in Australia. Hubby's parents were serving an 18 month LDS mission in Dundas, just outside of Sydney. We decided to take what money we had saved and splurge on a trip of a lifetime. What a leap it was! This picture was taken at
Whitehaven
Beach, part of the Whitsunday Islands. It is considered 1 of the top 10 beaches in the world (the sand is pure white, and baby powder fine). I have many pictures of this day...however they are on my other (broken) computer. Fortunately I have this sweet little one of Sara, in her yellow jumpsuit (we arrived at the end of jelly fish season and they wanted to make sure she would not be stung). They lovingly named her the "Yellow Teletuby."

I am so excited!!! I am a featured craft vendor at a local shop here in Centerville! I do many different items, (with this explosion shabby box pictured, as just one of the handful of others). Please go to the
Cobblestone website
and check out some of the other items I do, and what the store offers. I have loved shopping here for years and am just so delighted to be accepted and spotlighted.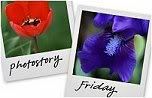 Hosted by Cecily and MamaGeek